The collection of the Yokohama Museum of Art has benefitted tremendously over the years from generous donations made by many collectors and benefactors. In this year's series of collection displays, we focus on the contributions that such individuals have made.
In 2011, the museum received a donation of some 171 artworks (150 sets) from "Sambi Shousha," which is the name of the house of collectors UEDA Kuniaki and Katsuko. The works added a great deal of depth to the museum's holdings in post-1980 contemporary art.
The name "Sambi Shousha," which can be loosely translated into English as "small hut in praise of beauty," is inspired by the thinking of OKAKURA Tenshin and artist, Makoto FUJIMURA, who believe that reverence for beauty lies at the heart of Japanese culture. The artworks that the UEDAs collected were mostly hung in their home, and at one point they numbered as many as 360 works by 45 artists and one artist unit. The UEDAs have aimed for what they dub "art democracy" and have thus not sold a single one of the works they owned but instead donated all of them to public art museums. Of the works that they have donated so far, our museum has received 175, the largest number given to any single institution.
In this display, we make our first comprehensive introduction of the UEDA Collection. We encourage visitors to come and enjoy this collection built over 20 years by citizen collectors who possessed both ideals and a finely tuned aesthetic sense.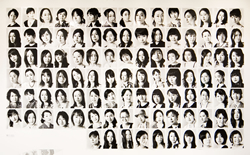 ARAKI Nobuyoshi
100 Beauties in Yokohama
2008/Monochrome print (set of 100)
each 90.0×60.0cm
Donated by Mr. ARAKI Nobuyoshi
Photo © ARAI Takashi

Meanwhile, in the Photography Gallery, we present works by ARAKI Nobuyoshi, the world renowned contemporary Japanese photographer. The key exhibit is his series 100 Beauties in Yokohama, which he shot at the museum in 2008.
Finally, we would like to express our heartfelt thanks to everyone who continues to support our collection.
Yokohama Museum of Art