Commemorating the 150th anniversary of Okakura Tenshin's birth and 100th anniversary of his death
Commemorating the 140th anniversary of Shimomura Kanzan's birth
SHIMOMURA KANZAN RETROSPECTIVE
December 7, 2013 − February 11, 2014
Yokohama Museum of Art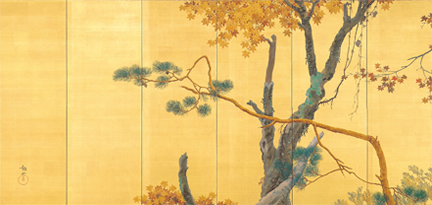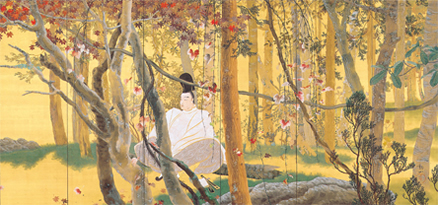 -The exhibition concept
Shimomura Kanzan (1873-1930) was born into a family of hereditary Noh players, who served the Kishu Tokugawa family. He studied under Kano Hogai and Hashimoto Gaho from the time he was a child, and acquired the painting techniques of the Kano school. In 1889, he became a student in the inaugural class of the Tokyo Fine Arts School (the present Tokyo University of the Arts), and studied under president Okakura Tenshin, along with Yokoyama Taikan and Hishida Shunso. Following graduation, Kanzan was appointed as an assistant professor at the school. But he resigned when Tenshin was ousted from the school in an administrative struggle. He then became a founding member of the Japan Art Institute. He later became one of its leading painters, and is known to have committed himself to creating new styles. In 1913, upon an invitation by businessman Hara Sankei, Kanzan settled in a house in Honmoku, Yokohama, which became his final dwelling place.Basing his paintings on the established style of the Kano school, he also diligently studied the flowing lines and colors of Yamato-e painting, while also incorporating elements of Western painting that he acquired while studying in England and other European countries. This allowed him to establish a uniquely refined and mellow style of painting. This exhibition, commemorating the 140th anniversary of his birth, fully introduces his paintings through showing approximately 150 works and documents (partly replaced during the show). This includes his chefs-d'oeuvre, ranging from the period when he studied Kano-style painting during his teens to the period of reviving the Japan Art Institute, during which he demonstrated his mature artistry.
※The paintings will be displayed in shifts due to conservation reasons.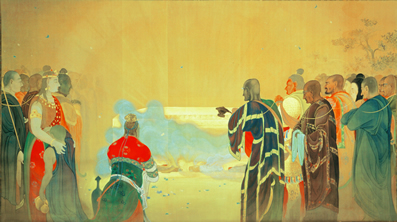 -Admission
Adult: ¥1,200 (1,000/1,100)
High School and University Student: ¥800 (700/ 700) Junior High School Student: ¥400 (300/ 300)
Elementary School Student and Younger: Free
*Admission for high school and younger student is free every Saturday.(Student ID and student handbook required)
*Admission is free for visitors with physical disability certificate and one accompanying person.
*( )= Advance/ Group of over 20 people (pre-booking required)
*Advance tickets are on sale until December 6, 2013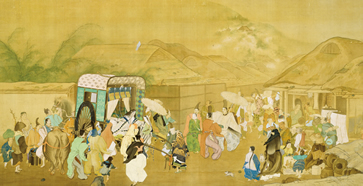 -General Information
Commemorating the 150th anniversary of Okakura Tenshin's birth and 100th anniversary of his death
Commemorating the 140th anniversary of Shimomura Kanzan's birth
SHIMOMURA KANZAN RETROSPECTIVE
Dates: Saturday, December 7, 2013 - Tuesday, February 11, 2014
Open hours: 10:00-18:00 (Last admission at 17:30)
Closed: Thursdays / Sunday, December 29, 2013 - Friday, January 3, 2014
Venue: Yokohama Museum of Art
    3-4-1, Minatomirai, Nishi-ku, Yokohama 220-0012
    TEL:045−221−0300  FAX:045−221−0317
    URL:http://www.yaf.or.jp/yma/
Organized by : Yokohama Museum of Art (Yokohama Arts Foundation),The Asahi Shimbun, Kanagawa Shimbun, Television Kanagawa Inc.
Supported by : City of Yokohama, JAPAN BROADCASTING CORPORATION YOKOHAMA STATION
In Cooperation with : Minatomirai Line, Yokohama Cable Vision Inc., Yokohama FM Broadcasting Co., Ltd., Metropolitan Expressway Co., Ltd.