TANIHO Reina: Resonance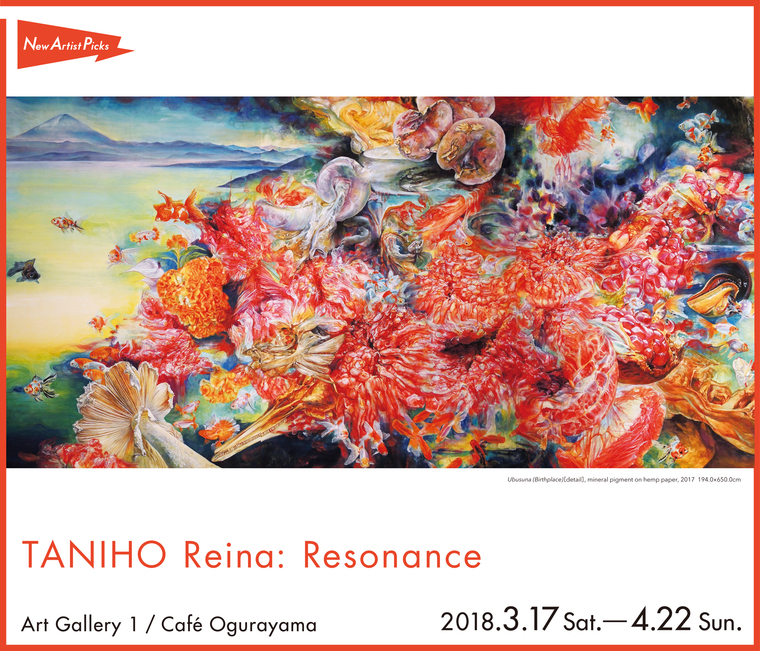 Highlight
Born 1986 in Tokyo. Graduated from Tama Art University Graduate School of Art and Design, Master's Degree Program, Painting Major, Japanese Painting Course.

Taniho Reina is an emerging painter who began focusing on her artistic career five years ago.
Her style has been consistent: her work depicts motifs such as marine organisms and plants that seem to be aggregating and multiplying, employing intricate compositions and the distinctive lush and vivid hues of Japanese pigments. Elements of her work almost appear as if they are writhing in concert with one another, creating a mesmeric and strange experience for the viewer. Behind Taniho's work is a strong interest in the origin of life as well as a sense of connection and resonance with the mystery of evolutionary memory. This exhibition will present new works based on these themes alongside the artist's recent work.

Outline
Dates
March 17 (Sat.) – April 22 (Sun.), 2018
Closed
Thursdays
Venue
Art Gallery 1, Café Ogurayama
Open Hours
11:00-18:00   *Café Ogurayama 10:45~

Admission
Free
Organized by

Yokohama Museum of Art (Yokohama Arts Foundation),
The Gotoh Memorial Foundation
Sponsored by
Warehouse TERRADA, TERRADA ART ASSIST Co., Ltd.
Production Grant from
PIGMENT

In Cooperation with
Café Ogurayama