Yokohama Triennale 2017 "Islands, Constellations and Galapagos"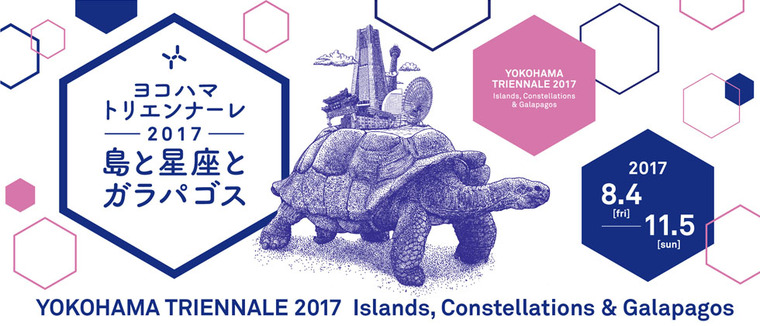 Highlight
The sixth edition of the Yokohama Triennaleis pleased to announce the exhibition title of Yokohama Triennale 2017, "Islands, Constellations and Galapagos." The title, together with the concept, has been conceived as a result of a series of discussion by the Conception Meeting members, consisting of the directors and experts of different generations working in different fields.  

"Islands," "constellations," and "Galapagos," are words that open possibilities for us to discuss various issues such as isolation and connectivity, imagination and guidance, distinctness and diversity, among others. In contemplating what we shall consider wisdom for our future during this time of uncertainty, we hope to engage people in these discussions using our imagination and creativity.  

In addition to the exhibition, a series of public forums "Yokohama Round" will be kicked off in January 2017 as a platform for conversations/discussions, contemplation, as well as sharing/co-existence in exploring the ideas surrounding the title of Yokohama Triennale 2017.
Conception Meeting Members
Suhanya RAFFEL [Executive Director, M+ Museum]
Sputniko! [Artist / MIT Media Lab Assistant Professor]
TAKASHINA Shuji [Art Historian / Director, Ohara Museum of Art / Professor Emeritus, The University of Tokyo]
Rirkrit TIRAVANIJA [Artist / Professor, Columbia University School of the Arts]
WASHIDA Kiyokazu [Philosopher / President, Kyoto City University of Arts / Director, sendai mediatheque]
YORO Takeshi [Anatomist / Professor Emeritus, The University of Tokyo]

OSAKA Eriko *[Director, Yokohama Museum of Art]
MIKI Akiko *[Curator / International Artistic Director, Benesse Art Site Naoshima]
KASHIWAGI Tomoh *[Project Director, Yokohama Museum of Art]
*Yokohama Triennale 2017 Directors
Outline

Dates
August 4(Fri.) -November 5(Sun.), 2017

Closed
2nd and 4th Thursdays

Main Venues
Yokohama Museum of Art
Yokohama Red Brick Warehouse No.1
Organizers
City of Yokohama, Yokohama Arts Foundation, Japan Broadcasting Corporation (NHK),The Asahi Shimbun, Organizing Committee for Yokohama Triennale