The photographic works of Kishin Shinoyama "Picture power"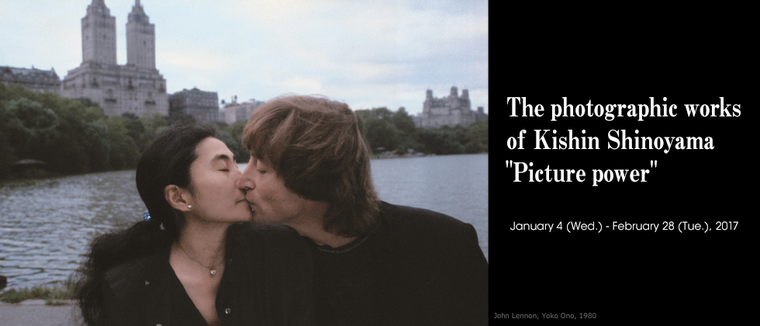 Overview
Experiencing Shinoyama Kishin's Photography at the Museum

The photographer Shinoyama Kishin's career spans over five decades. This exhibition, made up of approximately 120 of Shinoyama's photographs, which were selected by the artist from his enormous body of work and printed on large panels, was specifically designed for the museum space.

As suggested by Shinoyama's comment that "my theme is people that everybody knows," portraits of famous people lie at the heart of the photographer's practice. The luminous appearance of actors, singers, athletes, writers, artists, musicians, dancers, kabuki performers, and models are conveyed to contemporary viewers through Shinoyama's photographs in magazines, photo books, and other media. It would be no exaggeration to say that because these works have been so widely circulated, they are seen as defining images of the era by viewers of all generations. Rather than pictures that are the size of a handheld book, these photographs, measuring in the meters, promise to evoke vivid memories and transform the exhibition space into a venue for reunions and new encounters.

GOD The deceased
STAR The celebrities
SPECTACLE Dream worlds that take us to another dimension
BODY The body undressed - beauty, eroticism, struggle
ACCIDENTS Disaster 11 March 2011 - Portraits of the victims of the Great East Japan Earthquake
Ticket
Advance Pair Tickets
\2,000
*A pair of tickets for two people.
*On sale from October 1 until November 30, 2016
Adults
\1,500(Advance¥1,300/ Group of 20 or more \1,400)

University students
High school students 
\900 (\700/\800)

Junior high school students
\600 (\400/\500)

Children under 12
Free
Seniors (65 and older)
\1,400
*ID required. Only available at ticket counter in the museum.
*(/)=Advance / Group of 20 or more.
*Advance tickets are available from December 1, 2016 through January 3, 2017.
*For a group of 20 or more, reservation is required in advance.
*Free admission for high school students and younger with valid IDs on Saturdays.
*Visitors with disability and one person accompanying them are admitted free of charge. (Please present certificate at the entrance.)
*The ticket also gives admission to the Exhibition of the Museum Collection for the same day.
Outline
Dates
January 4 (Wed.) - February 28 (Tue.), 2017

Open Hours
10:00-18:00
*Open until 16:00 on February 23 (Thu.), 2017
*Open until 20:30 on February 24 (Fri.), 2017
*Admission until 30 minutes before closing.
Closed
Thursdays (except January 5 and February 23, 2017)
Organized by
Yokohama Museum of Art (Yokohama Arts Foundation),
The Yomiuri Shimbun, Nippon Television Network Corporation,
The Japan Association of Art Museums

Sponsored by
Lion Corporation, Dai Nippon Printing Co., Ltd.,
Sompo Japan Nipponkoa Insurance Inc.

Cooperation with
SHOCHIKU Co., Ltd.、Yokohama Minatomirai Railway Company,
Yokohama Cable Vision Inc., Yokohama FM Broadcasting Co., Ltd., Metropolitan Expressway Co., Ltd.
Collaboration with
Office Shigeo Goto + G/P gallery