Mary Cassatt Retrospective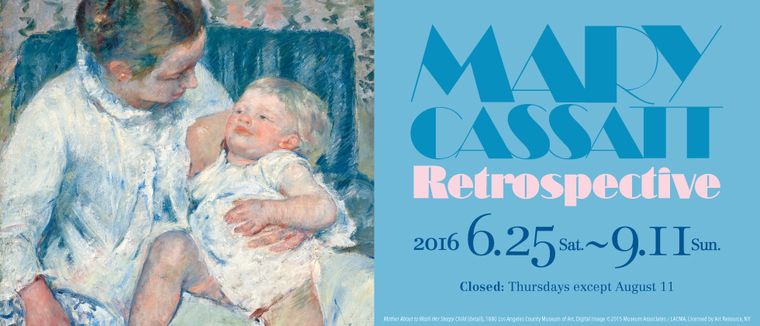 Highlight
The American-born woman artist, Mary Cassatt (1844-1926), was active in Paris during the latter-half of the 19th century. During a period when professional women artists were still rare, Cassatt carried through with her intention to become an artist and travelled to France to study painting. In France she searched for a new form of expression and participated in the Impressionist exhibitions where she established her own individual style of painting focusing on everyday family scenes as her subject matter. Cassatt's works became highly recognized in both France and the United States, and in 1904 she received La Légion d'honneur Chevalier from the French government. Furthermore, Cassatt formed friendships with American art collectors such as the wealthy Louisine Havemeyer, becoming their advisor and contributing to the development of the American art scene.

Cassatt can be considered as one of the more popular Impressionist artists in Japan but she has mainly been recognized as a pioneer woman artist and as a painter of mother and child scenes, whilst her entire oeuvre still remains relatively unknown. The last Cassatt exhibition to be held in Japan was in 1981 and only a few of her works can be found in Japanese collections. This exhibition is the first large-scale retrospective exhibition of Cassatt's works to be held in Japan in 35 years and will provide an important opportunity to show the artist's works together.

The exhibition will display approximately 80 carefully selected works which will include oil paintings, prints, pastels and drawings, spanning from her early to late career, in three exhibition sections. In addition, the exhibition will show the works of contemporary artists of her time with whom Cassatt had interactions such as Edgar Degas and Berthe Morisot, and will examine their relationship with Cassatt. Furthermore, the exhibition will display the Byōbu-e (folding screen) formerly belonging to Cassatt and also Ukiyo-e prints which influenced the artist, and will analyze in depth what Cassatt mastered from Japanese art.

Ticket
Advance Pair Tickets
\2,400
*A pair of tickets for two people.
*On sale from February 26 until April 4, 2016

Adults
\1,600(\1,400)

University and
High school students
\1,100(\900) 
Junior high school students
\600(\400) 
Children under 12
Free 
Seniors (65 and older)
\1,500
*ID required. Only available at ticket counter in the museum.  
*()=Advance/Group of 20 or more.
*Advance tickets are available from April 5, through June 24, 2016.
*For a group of 20 or more, reservation is required in advance.
*Free admission for high school students and younger with valid IDs on Saturdays.
*Visitors with disability and one person accompanying them are admitted free of charge. (Please present certificate at the entrance.)
*The ticket also gives admission to the Exhibition of the Museum Collection for the same day.
Outline
Dates
June 25 – September 11, 2016

Open Hours
10:00-18:00 (Last admission at 17:30)
*Evening hours: September 2 (Fri.) 10:00-20:30 (admission until 20:00)
Closed
Thursdays(except Auguest 11)
Organizers
Yokohama Museum of Art, NHK, NHK Promotions Inc., THE YOMIURI SHIMBUN
Supported by

The City of Yokohama

Grant from
Embassy of the United States of America in Japan、
Terra Foundation for American Art

Sponsored by
Dai Nippon Printing Co., Ltd.
In Cooperation with
ALL NIPPON AIRWAYS CO., LTD., Nippon Cargo Airlines Co., Ltd.,
Yokohama Minatomirai Railway Company, Yokohama Cable Vision Inc.,
Yokohama FM Broadcasting Co., Ltd., Metropolitan Expressway Co., Ltd.