James McNeill Whistler Retrospective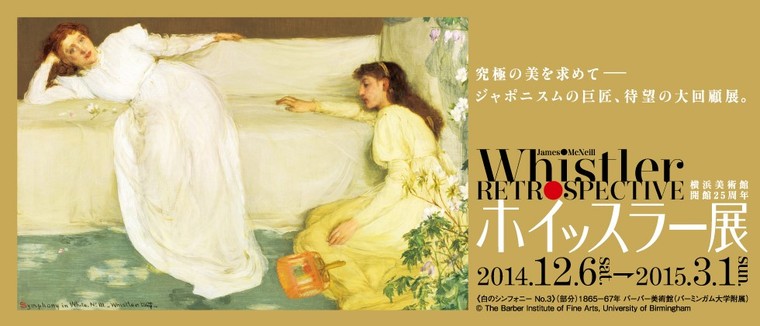 Highlight

Born outside the American city of Boston, James McNeill Whistler (1834-1903) was a prominent artist of the latter half of the 19th century who was primarily active in London and Paris.

In Victorian Britain, an era and place that represented the zenith of moralistic pictures, Whistler believed that pictures did not exist to convey a moral lesson. He was a major proponent of Aesthetic Movement that heralded 'Art for Art's Sake'. Whistler wrote, 'As music is the poetry of sound, so is painting the poetry of sight'. Through his use of musical terminology such as Symphony and Nocturne in his painting titles, he pursued the harmony of colour and form while eschewing the need for subject or narrative in his works. Whistler is also widely renowned as a Japonisme artist who was greatly inspired by his encounters with ukiyo-e and other Japanese art forms. Through his creation of compositions that did not rely on traditional Western perspectival methods and included the use of subdued gradations of colour tones, Whistler proved that Japanese art was more than simply the object of an interest in exotic lands, but rather an essential element in his formation of his own unique arts.

In Section 1 on Portraits and Section 2 on Landscapes, this exhibition explores how Whistler developed his own unique style as the leader of the Aesthetic Movement. Section 3 on Japonisme traces the meaning and function of Whistler's Japonisme through a display of the related ukiyo-e prints and reference materials as well as his own works. This exhibition, consisting of approximately 130 objects including oil paintings, watercolours and prints by Whistler, gives us an unprecedented opportunity to appreciate his comprehensive art world, which so broadly influenced other artists from his contemporaries to succeeding generations.

Outline

Dates
December 6 (Sat.), 2014-March 1 (Sun.), 2015
Closed
Thursdays, December 29 (Mon.), 2014-January 2(Fri.), 2015
*Exception: Open on December 25 (Thu.)
Open Hour

10:00-18:00 (admission until 17:30)
*Evening hours:December 22 (Mon.)-24 (Wed.)
10:00-20:00 (admission until 19:30)
Organizers
Yokohama Museum of Art, NHK, NHK Promotions Inc.
Sponsors
Aioi Nissay Dowa Insurance Co.,Ltd., Terra Foundation for American Art, Nissha Printing Co.,Ltd.
In Cooperation with

Yokohama FM Broadcasting Co., Ltd., Kanagawa Shimbun,
Metropolitan Expressway Co., Ltd., JAPAN AIRLINES, Minatomirai Line,
Yokohama Cable Vision Inc.

Ticket

Adults
\1,500(1,300/1,400)
University students
High school students 
\1,100(900/1,000)          
Junior high school students
\600(400/500)
Elementary school students
and younger
Free
*Collection gallery is available with this ticket.
*Visitors with disability and one person accompanying them are admitted free of charge.
(Please present certificate at the admission.)
*Admission for high school and younger student is free every Saturday.
(Student ID orstudent handbook required)
*( )= Advance and Group of over 20 people (pre-booking required)
*Advance tickets are on sale until December 5, 2014