Collection
Please click on the image.
(attribute to) Peter B. W. HEINE  《Commodore Perry Coming Ashore at Yokohama》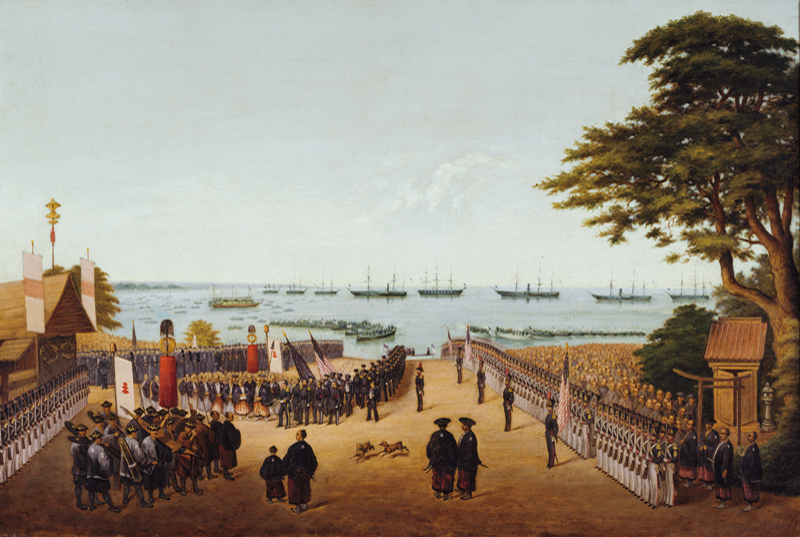 This work shows the historical scene in which the East India Squadron of the United States led by Commodore Perry landed at Yokohama on March 8th, 1854. A number of samurai, ranks of American sailors, people watching the event, and ships lined up at sea are meticulously depicted in the painting with an exaggerated depth. The work is attributed to German painter P. B. W. Heine who accompanied the squadron because lithographs of the same image made by Heine remain. The dynamic and orderly composition resembles a stage prop, which suggests the painting's attribution to Heine, who had formerly been involved with stage decoration. (MATSUNAGA Shintaro)
■Peter B.W. HEINE [1827–1885]
Born in Dresden, Germany, Heine primarily studied architecture. Desiring to be a painter, he traveled to Paris and studied there for three years on a scholarship. After returning to Germany, he was engaged in the stage decoration of the Palace Theater in Dresden. When the May Uprising of 1848 in which he participated failed, he fled to the United States. As a painter, he accompanied the expedition of the East Asia Squadron led by Commodore Perry. Depicting the sceneries, customs, as well as objects of Asian countries in paintings and drawings, he published them in the Narrative of the Expedition of American Squadron to the China Seas and Japan.
Paul CÉZANNE
 《Mont Saint-Victoire Seen from Gardanne(La Montagne Sainte-Victoire vue de Gardanne)》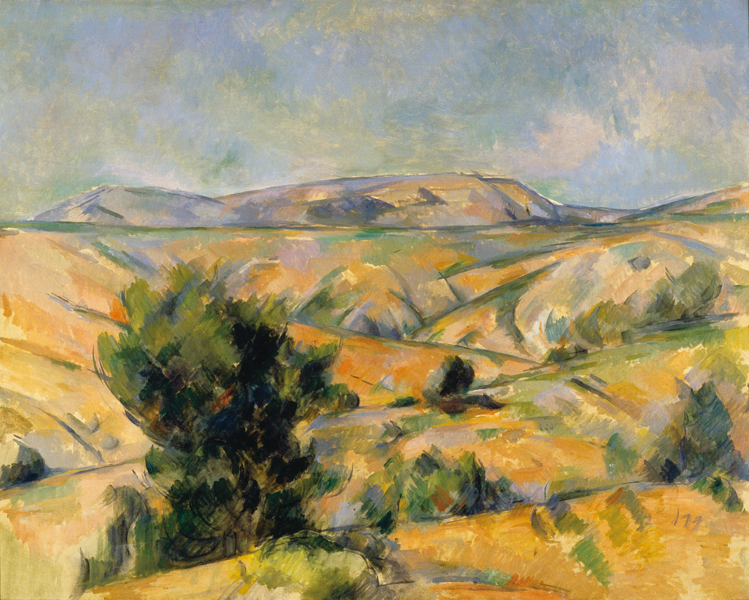 In the late 1860s, Cézanne was fascinated by the beautiful Marie-Hortense Fiquet, a 19-year old girl who modeled for painters. Due to her obedient and patient personality, Hortense was an ideal model for the temperamental artist. Though she and Cézanne soon had a son together, they did not marry until 1886. This portrait was created just before their marriage. The artist depicted her in 27 paintings. While many of them were created primarily for his inquiry into composition portraying the subject in an objective way, this particular work suggests their affection(NUMATA Hideko)
■Paul CÉZANNE [1839–1906]
Born in Aix-en-Province to a wealthy banker's family, Cézanne studied at Académie Suisse in Paris where he moved to in 1861. His childhood friends included Émile Zola. Cézanne became acquainted with C. Pissaro who had a great influence on him. While participating in the 1st and 3rd Impressionist Exhibitions, Cézanne did not agree completely with the Impressionist ideas and practices seeking to capture temporary changes in nature. During the 1880s and onwards, he pursued a more solid construction of images for his landscape, still life, and figure paintings, primarily working in Aix on his own. In 1895, discovered by the art dealer A. Vollard, Cézanne had his works shown in a solo exhibition and his avant-garde style elicited a great response from other artists and the public.
Gustave MOREAU  《Goddess on the Rock (Déesse au rocher)》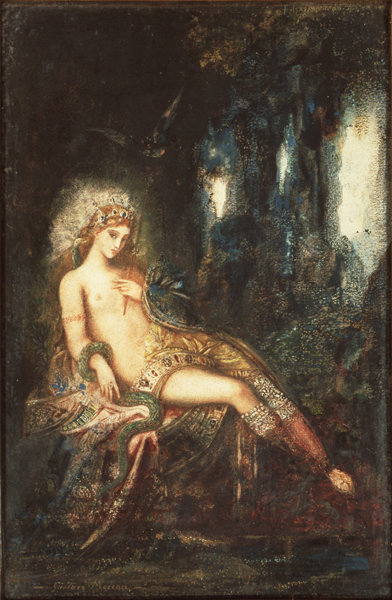 This painting shows a half-nude goddess leaning back towards a rock in a dark cave, seductively looking at the viewer. A green python is whispering something in her ear and a suspicious black bird is flying over her head. Moreau is said to have depicted his subjects taken from the bible and mythologies following his imagination. Most of all, Salome as a femme fatale was his favorite subject. The goddess in this work also appears to be an enchantress who tempts men and ruins their lives. Moreau successfully depicted the goddess's gorgeous gown and adornments in brilliant gouache colors with delicate brushwork. (NUMATA Hideko)
■Gustave MOREAU [1826–1898]
Born in Paris, Moreau entered École des Beaux-Arts in 1846 but left when he failed to win the Prix de Rome (the Rome Prize) for the second time. He was influenced by Romanticists such as T. Chassériau and E. Delacroix. In 1857, Moreau studied in Rome on his own expense and traveled around Italy. His painting Oedipus and the Sphinx (1864, Metroplitan Museum of Art),which was exhibited at the Salon in 1864, won an award and was purchased by Napoleon III. Moreau became a member of the Academy in 1888 and a professor at École des Beaux-Arts in 1892. Due to his open-minded guidance and teaching style, creative talents such as H. Matisse and G. Rouault emerged from his class.
Pablo PICASSO  《Sleeping Woman in an Armchair(Femme endormie dans un fauteuil)》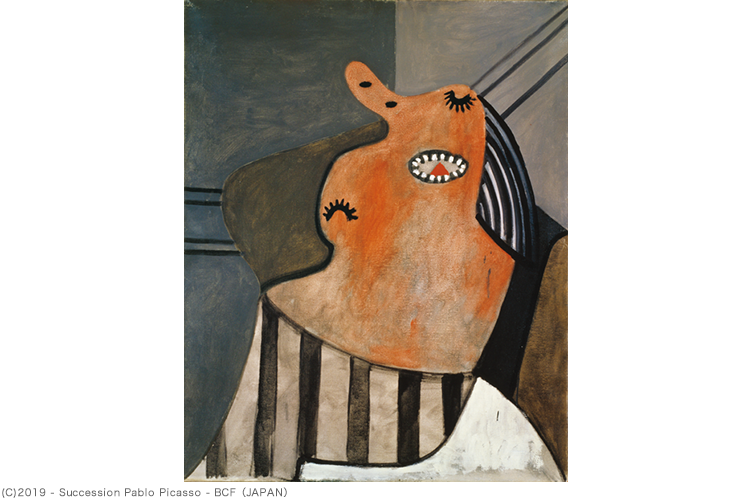 At the time of painting of this work, Picasso had already concluded his phase with Cubism and was developing his Neoclassic style while also looking into Surrealism, which was prevalent around Europe at the time. The woman depicted here is considered to be Marie-Thérèse, a new lover the artist had met earlier that year. However, the mouth baring teeth is reminiscent of a portrait of his wife Olga, whose relationship with Picasso had already soured by then. The symbolic eyes, nose, mouth, and the striped dress and hair–these motifs rhythmically and humorously comprise the image which carries a sexual implication. (MATSUNAGA Shintaro)
■Pablo PICASSO [1881–1973]
Born in Málaga, Spain, Picasso studied painting at art schools in Barcelona and Madrid. In 1900, he moved to Paris. Following his Blue Period themed on minorities and the poor, and his Rose Period themed on clowns and dancers, he developed the style of Cubism along with G. Braque by deconstructing and reconstructing motifs in his painting and applying multiple perspectives. Throughout his career, Picasso led 20th century painting, continuously developing new styles with his limitless creativity. He also created sculptures, prints, and ceramic works demonstrating originality in all of them.
Max Ernst  《Maiden's dream of a lake (La rêve d'une jeune fille d'un lac)》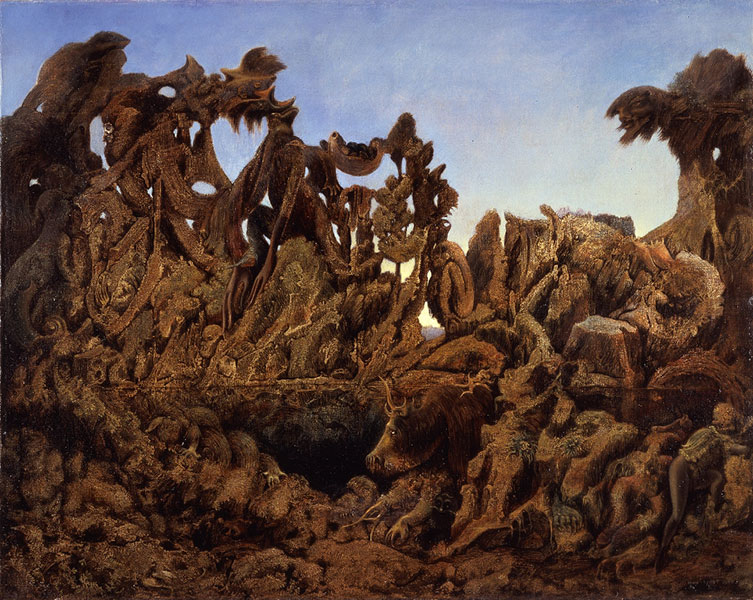 Ernst began to use decalcomania to painting in 1937. He pushed a glass plate against a painted canvas still wet. When he detached the glass plate from the canvas, an irregular pattern appeared on the surface of the canvas, following which he made delicate changes to the pattern to create a distinct scene. With this technique, Ernst produced apocalyptic landscape paintings such as "Europe after the Rain II" (1940-42, Wadsworth Atheneum Museum of Art) and this work. In this painting, forests that grew around the lake were transformed into various monsters. There is a theory that suggests that the bull's head below the center and the girl in the bottom right who appears as if looking for a way out, allude to the mythological story of "Rape of Europa." Ernst, who was sought after by the Gestapo around the time of the creation of this work, succeeded in fleeing to the United States. (NAKAMURA Naoaki)
■Max ERNST [1891–1976]
Born in Brühl near Cologne, Ernst studied philology and art history at the University of Bonn. Seeking to become an artist, he became acquainted with A. Macke and G. Apollinaire in 1912. Serving in the army during World War I, he returned to Cologne in 1918. Ernst organized Dada with J. Baargeld and became acquainted with G. de Chirico. He held a solo exhibition in Paris in 1921 primarily showing collages. Recognized by A. Breton and other poets, Ernst became acquainted with P. Éluard. Ernst moved to Paris in 1922 and became one of the leading artists of Surrealism. Familiar with Romanticism and depth psychology, he developed spontaneous techniques such as frottage. During the 1930s, he presented his collage novel "La femme 100 tête" along with other works. While he went in exile to the United States in 1940, he later returned to France after the war.
Salvador DALÍ
《Mural Painting for Helena Rubinstein "Fantastic Landscape - Dawn, Heroic Noon, Evening"》

Commissioned by Helena Rubinstein, who made a fortune in the cosmetics business, Dalí, who was in the United States during World War II, created this triptych work as a decorative mural. Following the tradition of allegorical landscape painting that compares one's lifetime to a time of a day, the image represents the departure of young Rubinstein as "Dawn," her successful career as "Heroic Noon," and her old age, a stage to which she, then 71 years old, was entering, as the "Evening." Arranging birds and clouds to compose a human face, Dalí combined a portrait and landscape into one in each panel with his distinctive method of a double image. As the figure in the central panel resembles an illustration in an alchemy book that A. Breton appreciated, it may allude to something other than a simple praise of Rubinstein. (NAKAMURA Naoaki)
■Salvador DALÍ [1904–1989]
Born in Figueres, Spain, Dalí studied at Real Academia de Bellas Artes de San Fernando from 1921 to 1924 and was inspired by de Chirico, Futurism, and the psychoanalysis of Freud. In 1928, he became friends with J. Miró and P. Picasso. The following year, Dalí joined the group of Surrealists and met Gala Éluard. He collaborated with L. Buñuel to make the films Un chien Andalou and L' Âge d'or. Dalí developed the "Paranoiac-critical Method" based on elaborated double images, which brought a creative breakthrough to Surrealist painting that had developed few approaches other than the passive Automatism. He was later dismissed by A. Breton due to his sympathy for Franco. Dalí moved to the United States in 1940 but returned to Spain in 1955 and lived there.
René MAGRITTE 《The Museum of the King (Le musée du roi)》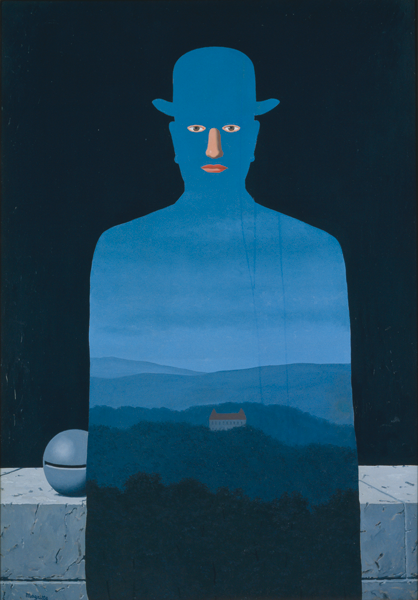 A man in a hat often appears in the paintings by Magritte from the 1920s through to the artist's later years. In this work, however, only his eyes, nose, and mouth are depicted, and a serene scenery of forested mountains is projected on the man's silhouette. By showing a distant landscape in the foreground, this work reverses a rule of painting, drawing viewers into the mysterious world that it visualizes. It is said that Magritte often asked his friends to title his works. For this work as well, his long-term friend L. Scutenaire since 1927 testified that he was the one to have given the painting its title. As an artist who made inquiry into "what should be depicted to have mystery in a painting," Magritte presented unsolved riddles with the titles of his works as well. (KANAI Mayuko)
■René MAGRITTE [1898–1967]
Born in Lessines, Belgium, Magritte attended painting and drawing classes from the age of 12. After studying at Académie Royale des Beaux-Arts in Brussels, he was influenced by Cubism and Futurism. While earning his living as a commercial graphic designer, he was impacted by the works of G.de Chirico, which prompted him to create Surrealist paintings from 1925. During his three-year residence in Paris from 1927, he became friends with P. Éluard, S. Dalí, and H. Arp. Returning to Brussels in 1930 and from then onwards, Magritte became well known around the world for his Surrealist paintings that depicted stunningly mysterious worlds by juxtaposing everyday objects in unusual ways.
TAKAHASHI Yuichi 《View from Atago Hill towards the Sea of Shinagawa》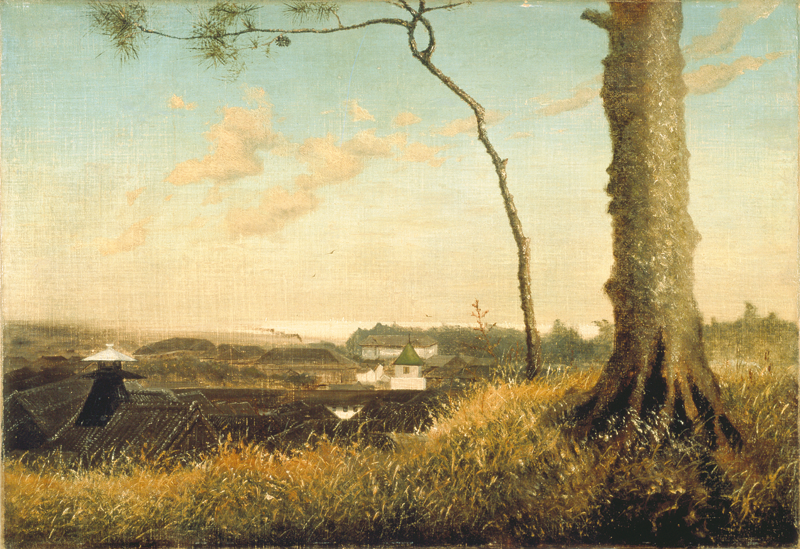 Located in Minato-ku, Tokyo, Atago Hill has been a popular place among people. In around 1873, Yuichi began to depict famous landscape sighting spots in Japan. There remain two sketches on which this painting was possibly based. As the inscriptions "steam boat" and "steam locomotive" in his sketches indicate, the first train in Japan that connected Shinbashi and Yokohama was already in service in Shinagawa. A dark smoke appears in the center of this painting as if to prove this fact. The work typically shows the painter's style during his mid-career in which he adopted an aerial perspective, a technique that he learned from A. Fontanesi. (OSAWA Sayoko)
■TAKAHASHI Yuichi [1828–1894]
Born in Edo (present Tokyo) as the first son to a samurai of the Sano clan in Shimotsuke-no-kuni (present Tochigi Prefecture), Yuichi first studied traditional Japanese painting under an artist of the Kano School. Deeply impressed by the life-likeness of Western lithographs, he decided to study Western painting. After studying under KAWAKAMI Togai at Yoshoshirabe- sho (shogunal institution of Western studies) in 1862, he became a disciple of C. Wirgman in Yokohama in 1866. In 1873, he founded Tenkairo, a private art school that was later renamed Tenkai-gakusha. While teaching young students, he studied under A. Fontanesi, an Italian painter in 1876. Founding the first Japanese art magazine, Gayusekichin, in 1880 and organizing exhibitions of Western-style paintings, he strived to promote Western-style painting in Japan.
WATANABE Yuko  《Baby》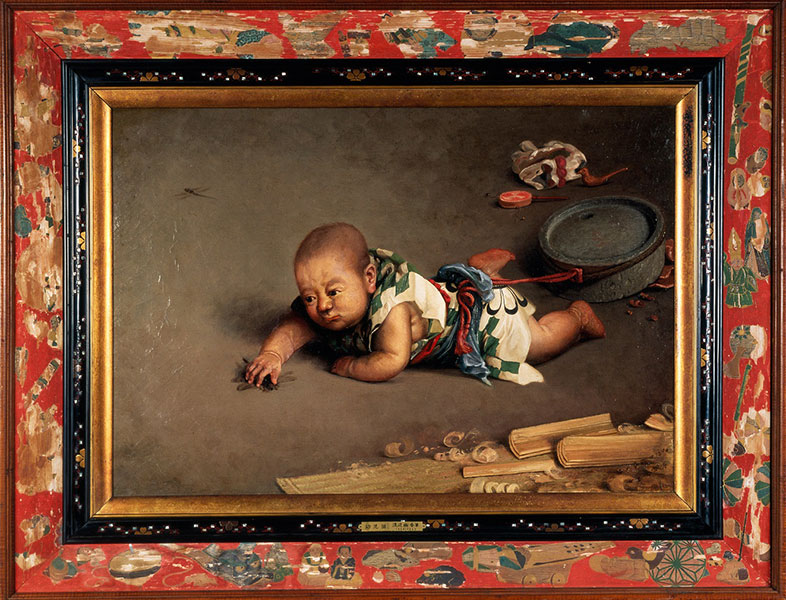 This painting was exhibited in the Women's Building, designated to introduce women's achievements from around the world, at the World's Columbian Exposition in Chicago. While it was first titled "A Child Grasping a Dragonfly", recent researchers consider the image of a sturdy baby trailing a stone mortar to be based on the childhood story of FUKUSHIMA Masanori, a warrior who served for TOYOTOMI Hideyoshi in the 16th century. The universal motif of a healthy infant was most likely expressed to be an allegory of Japan as an emerging power when the painting was exhibited at the international exposition. It is assumed that the frame decorated with various toy motifs was also designed by the painter herself. (UCHIYAMA Junko)
■WATANABE Yuko [1856–1942]
Born in Edo (present Tokyo) to a famous painter family. Her father was GOSEDA Horyu I, who depicted Westernized portraits and genre scenes on silk in his studio in Yokohama. And her brother was GOSEDA Yoshimatsu, a painter as well who studied Western-style painting under C. Wirgman. Yuko learned how to draw with her elder brother at a very young age. In 1876, she married WATANABE Bunzaburo, a pupil of Yoshimatsu. Her painting was awarded a prize at the 1st National Industrial Exhibition the following year. Her interest in prints led to her publications such as "Sun'in manko (Japanese Manners of All Ages)" (lithographs, 1886) and "Dai Nippon Fuzoku Manga (Japanese Types)" (etchings and lithographs, 1887). She was a pioneer female painter in the Meiji period as well as a core member of Goseda-ha (the Goseda School).
KISHIDA Ryusei  《Portrait of Mr. Tsubaki》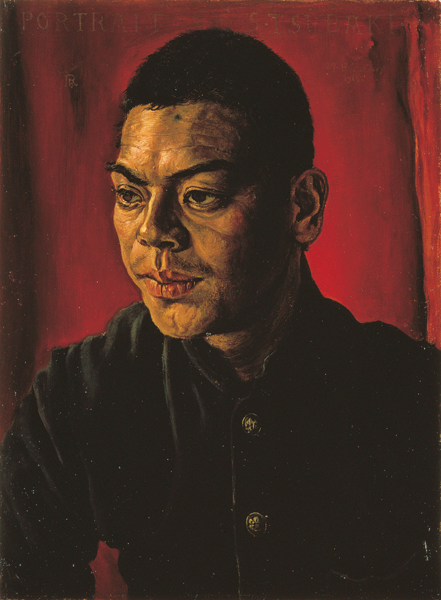 The model in this portrait is TSUBAKI Sadao, Ryusei's fellow painter and one of the co-founders of the artist association Sodo-sha, who is said to have admired Ryusei greatly. After having moved to Tokyo in 1914, TSUBAKI was stunned by the works he saw at Ryusei's solo exhibition at Gallery Tanaka-ya, Ginza. The following year, he visited Ryusei at his home bringing a self-portrait in which he followed Ryusei's style. Warmly accepting the visit, Ryusei praised the self-portrait of his 18-year-old follower. Since then, their friendly relationship continued until Ryusei died. Although Ryusei created two portraits of TSUBAKI in the same year, only this one remains. One of Ryusei's early works that shows his realist approach heavily influenced by A. Dürer, the portrait not only demonstrates his fine rendering skills but also successfully expresses the passionate interior of the subject as a young painter.(KANAI Mayuko)
■KISHIDA Ryusei  [1891–1929]
Born in present-day Chuo-ku, Tokyo, KISHIDA Ryusei had enthusiasm for painting as a young boy. From 1908, he studied Pleinairist painting at Hakuba-kai Institute which was founded and taught by KURODA Seiki. Making friends with members of Shirakaba-ha (White Birch School) in 1911, he discovered the Post-Impressionist paintings of V. van Gogh, P. Cézanne, and others through the magazine Shirakaba and was deeply impressed. Leaving Hakuba-kai, he co-created Fyuzan-kai (Fusain Society). Later influenced by Northern Renaissance painters including A. Dürer, he introduced detailed representational techniques to his painting and cofounded Sodo-sha (Grass and Earth Society) with KIMURA Sohachi and NAKAGAWA Kazumasa among others. In his later years, he was devoted to pursuing Asian styles such as those of the early works of hand-painted ukiyo-e and the paintings of Song and Yuan Dynasties (roughly 10th-14th centuries).
FUJITA Tsuguharu 《Nude with Her Arm Up》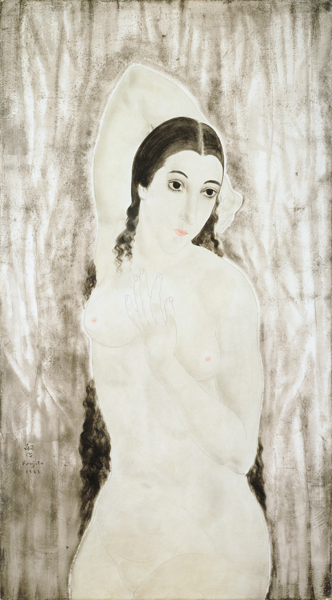 One of the typical examples of a nude portrait by FUJITA during the early half of the 1920s whose special texture known as "le grand fond blanc" (the great white ground) won him recognition in Paris. FUJITA created several similar compositions of standing nudes during this period as well as reclining nudes like Nu couché à la toile de Jouy (Reclining Nude with Toile de Jouy) (Musée d'art Moderne de la Ville de Paris) that caused a sensation at the Salon d'Automne in the previous year. The pose of this nude woman raising her right hand behind her head to reach her left ear and putting her left hand on her breast is similar to the upper body of the woman sitting on one knee in Cinq nus (Five Nudes) (The National Museum of Modern Art, Tokyo), which was exhibited at the Salon d'Automne in 1923. Several of his works show that he experimented with variations of these poses. (UCHIYAMA Junko)
■FUJITA Tsuguharu  [1886–1968]
Born in present-day Shinjuku-ku, Tokyo, FUJITA moved to France in 1913 after studying Western-style painting at Tokyo Fine Arts School. In the 1920s, establishing his own style with smooth milky-white background layers and exquisite rendering of nudes depicted with extra-thin brushes, he became one of the most popular among the École de Paris artists. After traveling around Central and South America, he settled back in Japan, exhibiting his work primarily at the Nika-ten Exhibitions. During World War II, he was one of the official war painters. In 1950, he moved to France again and acquired French nationality in 1955. Converting to Catholicism in 1959 (taking up the Christian name Léonard), he created religious paintings during his later years.
TATSUNO Toeko  《UNTITLED 96-3》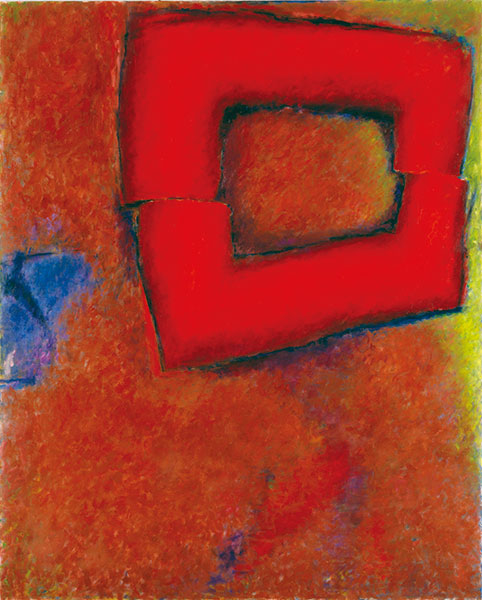 This work is representative of TASTSUNO's style with the space of the painting depicted in multi-layered colors. Beginning in the 1990s, three-dimensional forms often appear in her works instead of floating figures and flat shapes like floral patterns and diamonds that were frequently seen in previous decades. The shadows suggest the mass and weight of these forms and the depth of the layering of spaces in the background. The painting demonstrates her ongoing pursuit of creating three-dimensional illusions on two-dimensional canvases. (KANAI Mayuko)
■TATSUNO Toeko  [1950–2014]
Born in Okaya, Nagano, TATSUNO entered Tokyo University of the Arts and Music in 1968 and majored in oil painting until she finished graduate study there in 1974. TATSUNO was initially influenced by Minimalism and Conceptualism but later came to reexamine the fundamental aspects of painting. Through creating abstract spaces in which various geometric forms are afloat, she inquires the expansive space within a painting. Her works have frequently been shown in solo and group exhibitions, including "Toeko Tatsuno 1986-1995" at the National Museum of Modern Art, Tokyo in 1995.
NARA Yoshitomo 《Miss Spring》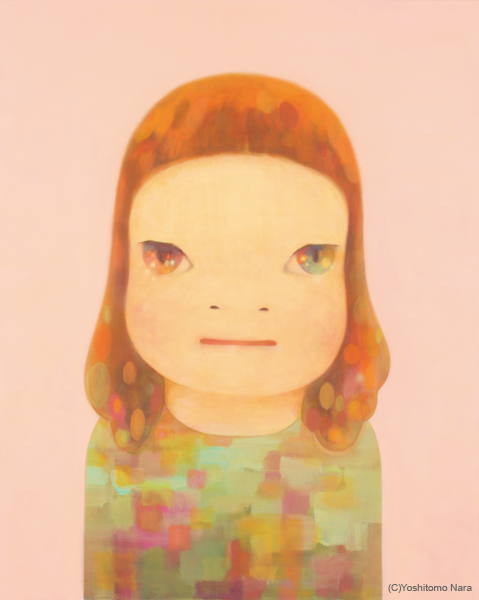 A girl with brilliant eyes in different colors and her mouth tightly shut as if concealing her thoughts. Her gaze directed straight towards the viewer may imply her resolution for a new departure as the word "spring" in the title suggests. There is no model for the subjects that NARA depicts. Each figure, assumed to be a self-portrait of the artist, gradually takes shape as he colors little by little and layer by layer, as if making a mosaic without a draft. This work was included in the second solo exhibition held at the Yokohama Museum of Art entitled "a bit like you and me..." in 2012. (OSAWA Sayoko)
■NARA Yoshitomo  [b. 1959]
Born in Hirosaki, Aomori, NARA graduated from the Master's Degree Program of Aichi Prefectural University of Fine Arts and Music and studied at Kunstakademie Düsseldorf in Germany from 1988. Since 2000, he has held several solo exhibitions abroad, followed by his major solo exhibition "I DON'T MIND, IF YOU FORGET ME.," which traveled to five institutions starting with the Yokohama Museum of Art in 2001. His works range from paintings to sculptures composed of bronze, ceramics and FRP, and large-scale installations exhibited around the world. His second solo exhibition "a bit like you and me..." was presented by the Yokohama Museum of Art in 2012.
KABURAKI Kiyokata  《Courtesan》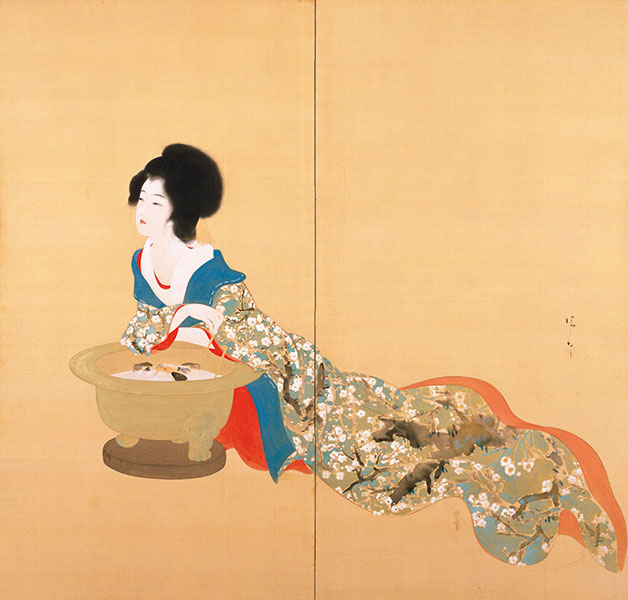 The woman is Chozan, a protagonist of the novel "Tsuya Monogatari" by IZUMI Kyoka, who was a close friend of Kiyokata's. When exhibited at the 3rd Kinrei-sha Exhibition, a critic wrote, in spite of its erotic subject, "The work not being obscene at all suggests the painter's upstanding character" ("Chuo Bijutsu", June 1918). After selecting subjects for his paintings from a wide range of old and new literature during his twenties, Kiyokata's interest was fixed to Edo customs. Looking at the ukiyo-e styles of painters such as Shunsho and Harunobu in the mid Edo period as a guideline, he introduced his own lyricism to his depiction of charming beauties. Present in the work are signs of a decadent mood of the Taisho period, which seems to predict his creation of the unusual work, "A Bewitching Mermaid" two years later. (UCHIYAMA Junko)
■KABURAKI Kiyokata  [1878–1972]
Born in present-day Chiyoda-ku, Tokyo, Kiyokata began to study under MIZUNO Toshikata at the age of 13 on the advice of his father JONO Saigiku, who was a popular novelist and founder of "Yamato Shinbun" newspaper. Kiyokata first made his debut as an illustrator for printed matter and then began his career as a painter around the late 1890s. He co-created Ugo-kai (artist association) with other pupils of Toshikata in 1901 and Kinrei-sha (artist coterie) with KIKKAWA Reika and several others in 1916. Exhibiting his works at the Bunten and Teiten exhibitions, Kiyokata developed his own portraiture of beauties and genre painting in which the atmosphere of the Edo period was depicted. While working on large-sized paintings for these exhibitions, throughout his lifetime he also fervently created picture albums and scrolls, "desk art" as he called them, which featured exquisite rendering skills.
YOKOYAMA Taikan  《Clouds of Waterfall Spray》

Ink (wash) painting originated in Tang Dynasty China. In Japan, it grew popular during the late Kamakura and Muromachi period (12th-16th century) under the influence of Song and Yuan Dynasty Painting. Sesshu was the leading figure. As Yin Zhongrong (late 7th century) was praised for his black ink being "worth five colors," many painters have strived to express light and colors with a gradation of black ink. In this work, the magnificence of the huge waterfall in the fog is effectively emphasized by the dark cliff and delicately shaded trees in the foreground. This work was included in the 4th Tanko-kai exhibition where the work of his contemporary masters of Tokyo and Kyoto, such as KAWAI Gyokudo, SHIMOMURA Kanzan, YAMAMOTO Shunkyo, TAKEUCHI Seiho, were shown. (KASHIWAGI Tomoh)
■YOKOYAMA Taikan  [1868–1958]
Born in present-day Mito, Taikan (real given name Hidemaro) entered Tokyo Fine Arts School as one of the first students of the school in 1889. The influence of the school principal OKAKURA Kakuzo (Tenshin) was so great that Taikan admired the mentor for life. When Tenshin lost his position at the school in 1898, Taikan and his fellow associate professors at the same school also quit and co-founded Nihon Bijutsuin (Japan Art Institute). He and HISHIDA Shunso invented "mokkotsu-byoho," a technique for painting without drawing outlines, which was dubbed "moro-tai" (blurred style). After traveling abroad, he moved to Izura, Ibaraki, and strived to restore Nihon Bijutsuin, which was faced with financial difficulties. After Tenshin's death, he led the reorganization of Nihon Bijutsuin in 1914 and propelled the following renovation of Nihonga.
SHIMOMURA Kanzan  《Mt. Ogura》

For a period of two years from February 1903, Kanzan studied in United Kingdom and traveled around Europe on the Japanese government's expense. Since he had often referred to Western painting for his work through black and white reproductions, he eagerly undertook study of color expression in Europe and after returning home to Japan, experimented with new techniques of expression, such as using European paint in his work. This work is based on the waka (Japanese poem) created by FUJIWARA no Tadahira (posthumous name: Teishinko), a court noble: "Maple leaves in Mt. Ogura, if you have hearts, please stay as beautiful as you are until the Emperor comes back here." In this work, Kanzan not only combined the techniques of the Kano School, yamato-e and Rinpa School with Western composition and colors, but he also ambitiously incorporated a poetic aspect. (KASHIWAGI Tomoh)
■SHIMOMURA Kanzan [1873–1930]
Born in present-day Wakayama, Kanzan (real given name Seizaburo) learned the painting technique of the Kano School directly from KANO Hogai and HASHIMOTO Gaho. Along with YOKOYAMA Taikan, he entered Tokyo Fine Arts School as its first student and studied under OKAKURA Kakuzo (Tenshin). When Tenshin lost his position at the school, Kanzan and fellow associate professors at the school also quit and co-founded Nihon Bijutsuin ( Japan Art Institute). After studying in the United Kingdom and traveling around Europe on the government's expense, Kanzan moved to Izura, Ibaraki and strived to restore Nihon Bijutsuin, which was faced with financial difficulties. After Tenshin's death, Kanzan and Taikan, along with other painters, reorganized Nihon Bijutsuin together. Combining the techniques of Western painting and yamato-e, Kanzan established his own elegant style.
IMAMURA Shiko 《Portrait of Date Masamune》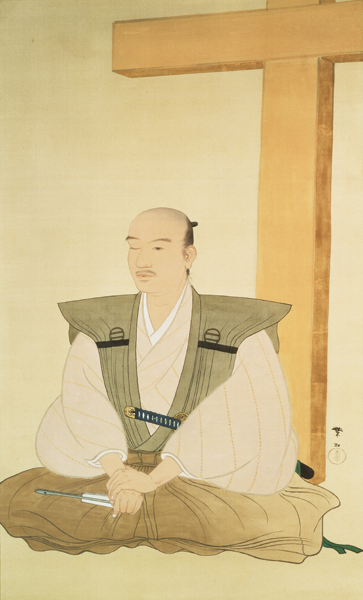 This work was first exhibited at the 12th Koji-kai exhibition. Shiko wrote to HATTORI Rokunosuke, to whom he was presenting the portrait, that the subject was DATE Masamune, who showed his preparedness for execution by laying gold foils on a cross when he came to Kyoto summoned by TOYOTOMI Hideyoshi. Shiko gave Masamune neither his trademark eye-patch nor white clothing in the painting, simply focusing on the subject without even showing the entire cross. This was a new type of historical figure portraiture that departed from those having explanatory details. Shiko's superb sense of color is demonstrated in the dark green of the short sword that emphasizes the sober colors of the clothing and the gold on the cross that echoes with the gold on the clothing. After Shiko died, this work was owned by HARA Tomitaro (Sankei). (YATSUYANAGI Sae)
■IMAMURA Shiko [1880–1916]
Born in present-day Onoe-cho, Yokohama to a lantern trading family, Shiko became a pupil of MATSUMOTO Fuko at the Angado painting school at the age of 17. He exhibited his works at various venues such as the Inten Exhibition, Tatsumiga-kai (artist association), and Koji-kai (artist association), which he co-organized with YASUDA Yukihiko and other artists. Shiko met HARA Tomitaro (Sankei), who came to patronize him since being awarded at the Bunten Exhibition in 1911 for Gokarei (Bells Attached to Cherry Trees to Prevent the Blossoms from Falling) (Reiyukai Myoichi Memorial Hall). His travel to India in 1914 led to his creation of The Tropics (Tokyo National Museum, Important Cultural Property). He co-organized Sekiyo-kai (artist association) with HAYAMI Gyoshu and several others. Although further development of his artistic career was expected, Shiko passed away at the age of 35. Casting new light on classical themes, he created a modern and colorful style distinctively his own with innovative compositions and approaches.
YASUDA Yukihiko  《Window》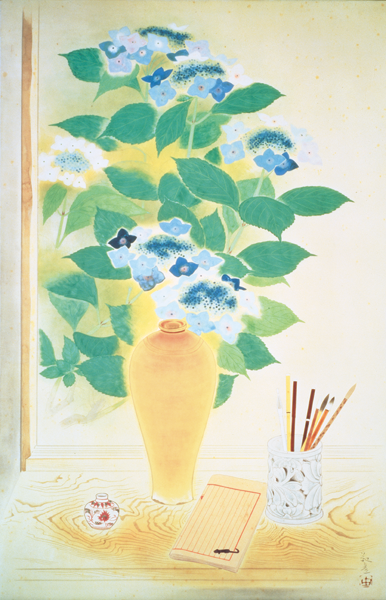 Window [1951] This work was included in the 36th Reorganized Inten Exhibition. The window depicted here is in the child's room of the artist's home in Oiso. At first sight, the hydrangea flowers appear as though in a vase placed inside the window. However, it is Yukihiko's witty trick that he unified the spaces of inside and outside by deliberately fooling our perception of distance. Showing an affinity for painting everyday domestic subjects in the post-war era, this work marked a new development of the artist who was mostly reputed for his magnificent history paintings. Placed on a table made of beautiful wood grain is a small pottery jar with red pattern called "akae," a white porcelain brush stand, a tall vase smaller at the bottom, and a bronze buckle of the Han dynasty used as a paperweight. All objects are part of the artist's private collection. Yukihiko most likely chose the writing paper ruled in red, instead of normal brown, to seek for a contrast with the wood grain of the table. (YATSUYANAGI Sae)
■YASUDA Yukihiko [1884–1978]
Born in present-day Chuo-ku, Tokyo, Yukihiko studied under KOBORI Tomoto from 1898 and organized a group called Shiko-kai with other pupils, which was renamed Koji-kai after IMAMURA Shiko joined. Since his talent was recognized by OKAKURA Kakuzo (Tenshin), Yukihiko came to receive patronage from HARA Tomitaro (Sankei). After Tenshin died, he participated in the reorganization of Nihon Bijutsuin ( Japan Art Institute) working passionately as one of the leaders of the generation that followed after precursors that included YOKOYAMA Taikan. Based on his deep knowledge of works by East Asian masters, Yukihiko created his own historical paintings and portraits with subjects taken from Japanese classic literature, ancient Chinese tales, and archaic customs. The comfortable tension in the lines and serenity of colors make his work elegant and graceful. Yukihiko is also well-known as a researcher of calligraphy of Ryokan (Buddhist monk, 18–19th century).
KATAOKA Tamako
 《Tsuragamae: Ukiyo-e Painter Suzuki Harunobu and Naturalist Hiraga Gen-nai》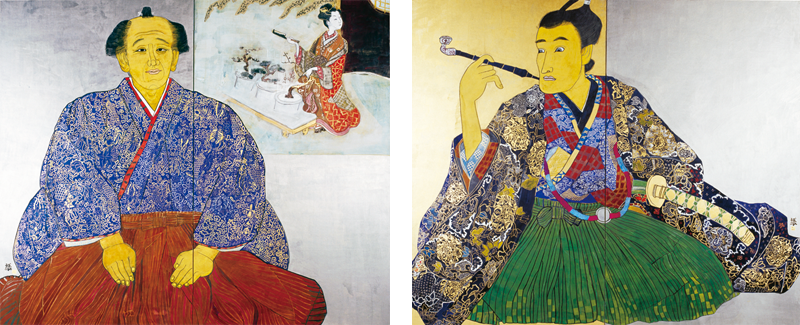 "Tsuragamae" is a series of paintings depicting historical celebrities, originating when Tamako was 61 years old. Upon seeing the statue of ASHIKAGA Takauji exhibited in Toji-in Temple in Kyoto, it was the artist's belief that the spirit of each person dwelled in the face. In her work, Tamako successfully calls back to life in modern times these historical figures who seemed particularly inspiring to her, as if conversing with them through her vigorous brushstrokes. Juxtaposed in this particular work are SUZUKI Harunobu, the ukiyo-e painter in the 18th century who was skilled at depicting beautiful women, and HIRAGA Gennai, Harunobu's friend who is said to have passionately promoted ukiyo-e. (OTA Masako)
■KATAOKA Tamako [1905–2008]
Born in Sapporo, Tamako majored in Nihonga painting at the Art and Design University for Women (present Joshibi University of Art and Design). In 1926, she became a teacher at the Yokohama Municipal Ooka Jinjo Koto Shogakko (a primary school for children aged 6–14 years old). While teaching, she sent her paintings to the Teiten Exhibition but was rejected several times. Afterwards, she began to send her works to the Inten Exhibition following NAKAJIMA Kiyoshi's advice and exhibited one of her paintings there for the first time in 1930. She became a member of the association of Nihon Bijutsuin ( Japan Art Institute) in 1952. Tamako established her own innovative style through the "Mt. Fuji" series and "Tsuragamae" series of historical celebrities that impacted the conventional Nihonga scene with powerful compositions, vivid colors, and bold brushstrokes.
Edgar DEGAS
 《Mary Cassatt at the Louvre: Museum of Antiquity (Mary Cassatt au Louvre, Musée des Antiques)》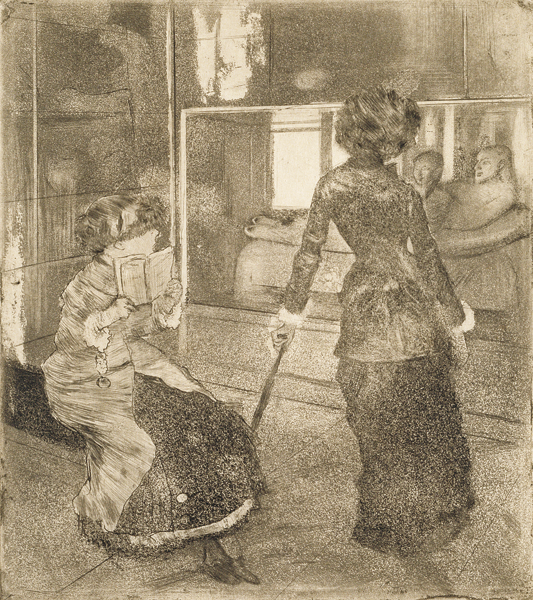 Degas prepared for the publication of a book of prints Le Jour et la Nuit (Day and Night) with Mary Cassatte and Camille Pissarro. Though the book was not actually published, this print was made for the book. It shows Cassatte and her sister Lydia in the gallery of the Louvre Museum where an Etruscan sculptures for stone caskets are on display. While Lydia is seated looking at a book, Cassatte, dressed in a chic outfit, stands leaning on an umbrella used like a cane. The elegant and sophisticated character of Cassate is expressed in the image. The reflection in the glass showcase is skillfully rendered by shading done with the process of aquatint. (KANAI Mayuko)
■Edgar DEGAS [1834–1917]
Born in Paris, Degas entered École des Beaux-Arts in 1855 and studied painting under Louis Lamothe, a disciple of D. Ingres. Though having initially been a history painter influenced by Renaissance art, he came to depict subjects in contemporary urban life, such as horse races, ballet dancers, and circus entertainers. Becoming acquainted with É. Manet in 1862, Degas enjoyed companionship with the Impressionists from 1868, exhibiting his works as one of the crucial members at the 1st Impressionist Exhibition in 1874 and thereafter. Brimming with dynamic liveliness, his bold compositions, most likely influenced by photography and ukiyo-e, were popular from the time that they were first shown. Mary Cassatt at the Louvre: Museum of Antiquity
Paul JACOULET  《The Nautilus Shell, Yap》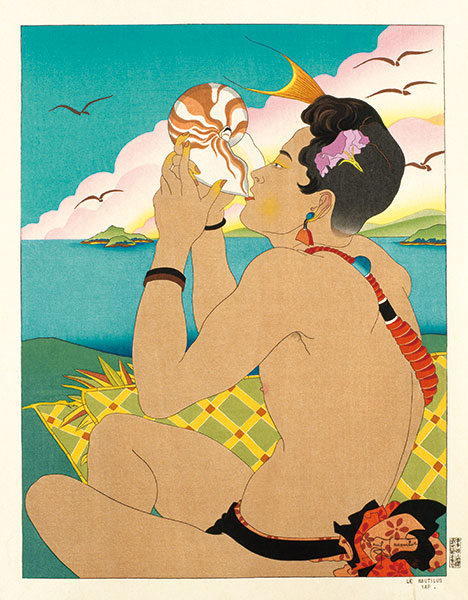 Due to his frail health, Jacoulet spent every winter from 1929 to around 1937 in the Micronesian islands, which were a mandated territory of Japan at the time. This work is one of the woodblock prints based on his own sketches and watercolors he drew during his stays in Micronesia depicting the islanders of the South Seas. The image is filled with things that symbolize the region such as the stout body of a young man, the blue sky and ocean, and the hibiscuses and Nautiluses that he saw in Yap Island of the Carolines. In addition to the vivid and clear colors that evoke exoticism, the detailed pencil outlines, instead of brush lines as used with ukiyo-e, altogether give liveliness to the image. (KANAI Mayuko)
■Paul JACOULET [1896–1960]
Born in Paris, Jacoulet spent most of his lifetime in Japan since moving there at the age of 3 because of his father's work as a French teacher. He began studying oil painting at the age of 11 under KURODA Seiki and KUME Keiichiro at the Hakuba-kai Institute and Nihonga under IKEDA Terukata and Shoen when he was 13 years old. In 1934, Jacoulet began to create multi-color woodblock prints in the ukiyo-e style in collaboration with an engraver and printer, taking his subjects from his frequent travels to Micronesia from 1929 until the late 1930s, and Korea where his mother lived after her remarriage. From 1936 until 1937, he published "Genre Prints from Around the World", which was popular both in Japan and abroad, depicting exotic landscapes and customs in brilliant colors.
TSUKIOKA Yoshitoshi 《Fujiwara Yasumasa Playing the Flute in the Moonlight》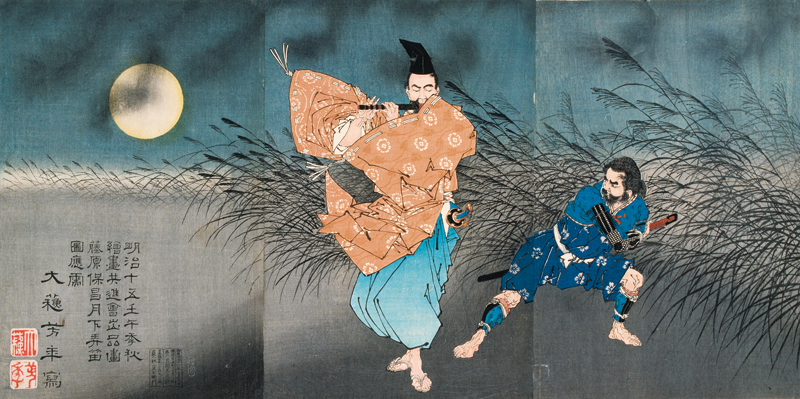 FUJIWARA no Yasumasa was a nobleman (10–11th century) and the husband of IZUMI Shikibu. He was well-known for his valor and virtue. This image depicts the story from Konjaku Monogatari-shu (Japanese old tales) about a footpad following and attempting to rob Yasumasa walking alone one hazy moonlit night playing the f lute, but who failed because Yasumasa was completely alert all the time. The footpad eventually became Yasumasa's servant. Yoshitoshi was especially skilled at creating a tense and dynamic composition as found in this work. He made multi-color prints based on the original painting exhibited at the 1st National Painting Exhibition in 1882. (OTA Masako)
■TSUKIOKA Yoshitoshi [1839–1892]
Born in Shinbashi, Edo (present Minato-ku, Tokyo), as the second son (real given name Yonejiro) of a merchant family, Yoshiokaya, Yoshitoshi later succeeded the family of painters of TSUKIOKA Sessai. In 1850, Yoshitoshi became a disciple of UTAGAWA Kuniyoshi. Depicting a variety of subjects including warriors, actors, and beauties, he soon became reputed for his strikingly distinctive pictures of disturbing scenes called "chimidoro-e" (bloody prints). Recovering from a serious nervous disorder, he renamed himself "Taiso" in 1873. Since then onwards, he created unique pictures introducing modern subjects and compositions under the influences from KATSUSHIKA Hokusai and KIKUCHI Yosai.
KOBAYASHI Kiyochika  《The Kaiun Bridge (The Daiichi Bank in the snow)》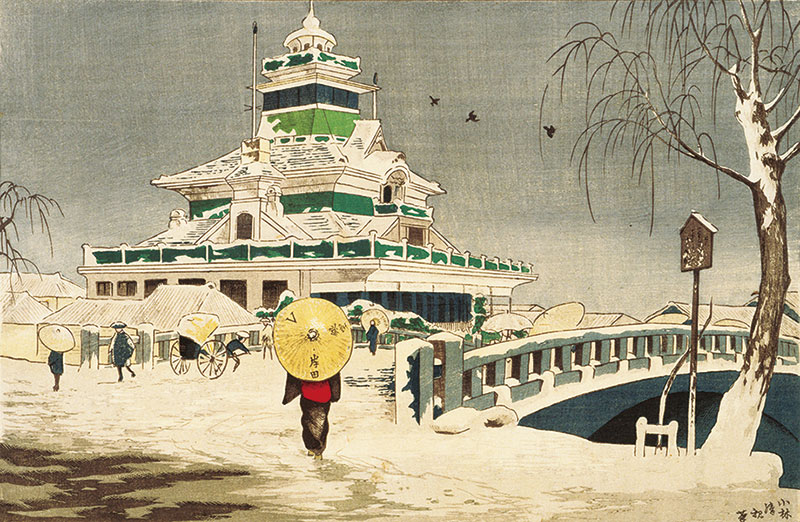 The building that rises in the center is 1st National Bank, which started business in Tokyo in 1873. The five-floored Western-style architecture with a bronze tile roof was an extremely popular subject for ukiyo-e prints as a symbol of the age of civilization. Adding to the scene a woman dressed in a kimono holding an umbrella, Kiyochika juxtaposed Japanese against Western and the old against new in this work of kosen-ga (light ray picture), a new type of landscape prints he created by introducing a Western-style perspective and chiaroscuro to ukiyo-e. The name written on the umbrella, "Kishida Ginza" refers to a drug store "Rakuzendo," which was run by KISHIDA Ginko, the painter KISHIDA Ryusei's father, and famous for an eye drop named "Seikisui." (OTA Masako)
■KOBAYASHI Kiyochika [1847–1915]
Born in Asakusa, Edo (present-day Taito-ku, Tokyo), Kiyochika (childhood given name Katsunosuke) started his career as an ukiyo-e artist around 1875. From 1876 to 1881, he created the style which was called "kosen-ga" (light ray picture), in which he elaborated the representation of the atmosphere and light, introducing a Western-style perspective and chiaroscuro. In this style, he created prints of 93 landscape images which became quite popular as the "Famous Views of Tokyo" series. From 1881, he depicted satirical caricatures called "punch pictures," war pictures of the Satsuma Rebellion, and later on original painting.
HASEGAWA Kiyoshi  《Still Life, "Time"》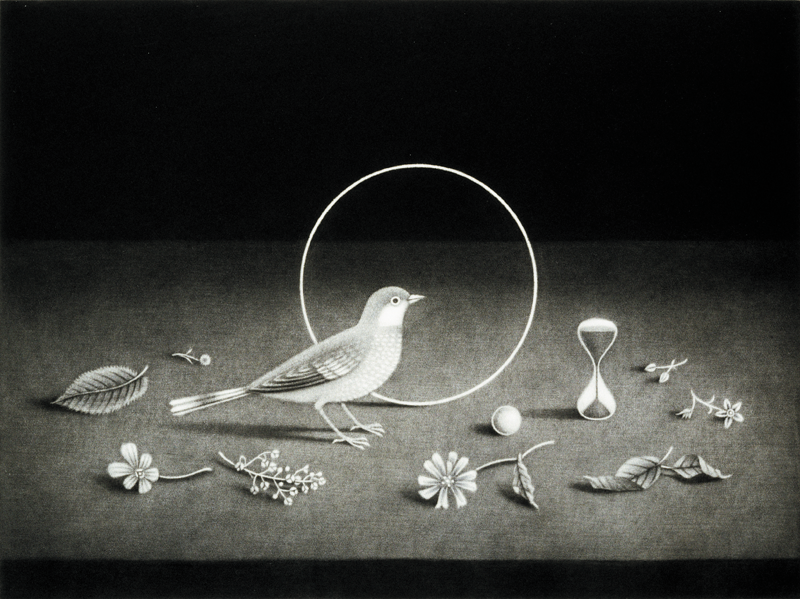 Interested in the long disused print technique manière noire (mezzotint), HASEGAWA succeeded in restoring the process by using his own method. From 1959, he made innovations to the technique by creating velvet-like jetblack ground and finely combing the plate with a rocker (berceau) to express the mystery of life and the universe. In the center of this image, a thin, shiny ring and a bird are depicted in the center surrounded by a sand clock, a small sphere, leaves, and flowers. In a poem he attached to this particular image, HASEGAWA wrote about unstoppable time, cosmic workings like a circle, and the bird of happiness he could never catch. (NUMATA Hideko)
■HASEGAWA Kiyoshi [1891–1980]
Born in present-day Nishi-tobe-cho, Yokohama, as a member of Seihai (Holy Grail), a coterie literature magazine, HASEGAWA began to make Sosaku-hanga (Creative Prints) in which he handled all of the processes from designing and engraving to printing by himself. In 1918, he moved to France to study etching techniques and worked there for the rest of his life as a painter and engraver, never returning once to Japan. Hasegawa revived in his own manner the technique of manière noire, a type of mezzotint which had faded out at the time. In his later years, he was highly recognized for his distinctive fantastical prints with subjects afloat in deep black voids, receiving the L'ordre des Arts et des Lettres (French Cultural Merit) in 1966 and the Order of the Sacred Treasure, Gold Rays with Neek Ribbon in 1968.
Eliphalet BROWN Jr.  《ENDŌ Matazaemon and his Retainers》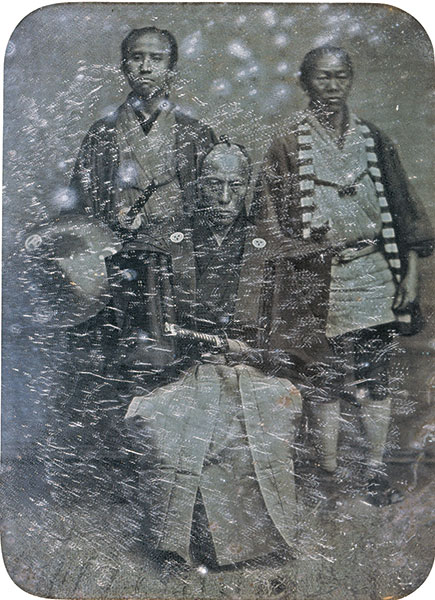 Arriving in Japan accompanying the East India Squadron led by Commodore Perry on May 1854, Brown Jr. photographed officials of the Tokugawa Shogunate and local clans by the Daguerreotype process (silver plate photography), which was the most widely available photographic method at the time. This photograph shows ENDO Matazaemon and his retainers, a group of samurai of the Matsumae clan who negotiated with the American fleet in Hakodate, a major port in present-day Hokkaido. Considered as one of the oldest remaining portraits taken of Japanese people, this photograph was designated an Important Cultural Property of Japan in 2006. In addition, it is known that Brown Jr. took four other portraits of Japanese people. Later on, this image was included in the book "Narrative of the Expedition of an American Squadron to the China and Japan" (1856), reproduced in lithography. (OSAWA Sayoko)
■Eliphalet BROWN Jr. [1816–1886]
Born in Newburyport, Massachusetts, the United States, Brown Jr. was working as a commercial painter and printmaker in New York City when he was appointed as a painter and photographer to accompany the East India Squadron led by Commodore Perry in 1853. The following year, Brown Jr. photographed with daguerreotype people such as Shogunal officials and important negotiators of concerned clans, and landscapes while traveling around the Ryukyu Islands, Shimoda, Yokohama and Hakodate. Some of the photographs were used to make woodcut or lithograph prints to illustrate books including the "Narrative of the Expedition of an American Squadron to the China and Japan" (1856). After his return to the United States, Brown Jr. remained in Navy but retired from photography and printmaking.
Antonio BEATO  《Member of the Japanese Mission to Europe,in Front of the Sphinx》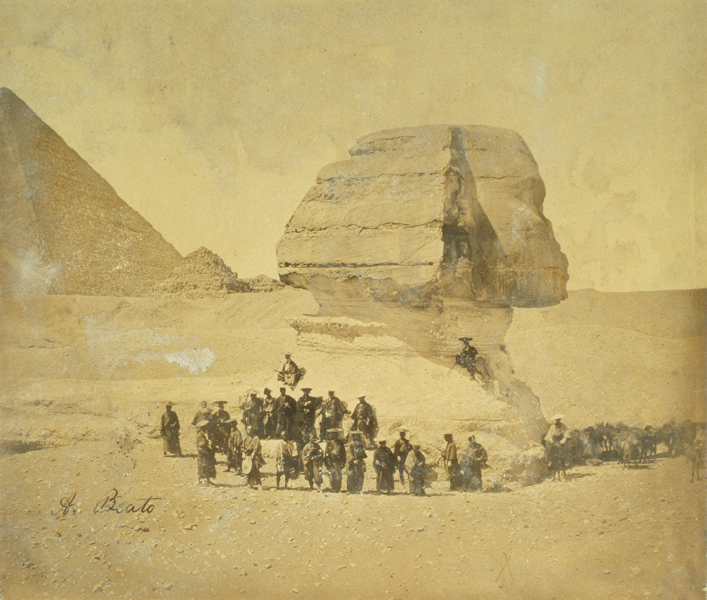 In 1864, the Tokugawa Shogunate sent the second Japanese embassy to Europe in order to improve relations with the United Kingdom which had worsened after the Namamugi Incident and Anglo-Satsuma War, and to discuss their intention to close Yokohama Port to silence the Sonno-joi sect (revering the emperor and seeking to expel the foreigners) in Japan. The leader of the company was IKEDA Chikugonokami Nagaoki. This photograph was taken in Giza, Egypt, on their way to see Napoléon III in Paris. 24 out of the 35 members of the embassy are shown in the image. The photographer, Antonio Beato, was the brother of Felice Beato, who was a photographer working in Yokohama at the time. (OSAWA Sayoko)
■Antonio BEATO [n.d.–ca.1906]
Antonio Beato's birthplace is unknown. Around 1853, he began to work for the photographer James Robertson with his brother Felice Beato. Antonio photographed Greece, Israel, and the Crimean War. While Felice reached Japan via India and China, Antonio only accompanied him until their travel to India but afterwards went to Egypt and set up a studio in Luxor in 1862. Since then, Antonio stayed in Egypt
Man Ray 《The Primacy of Matter over Thought(Primat de la matière sur la pensée)》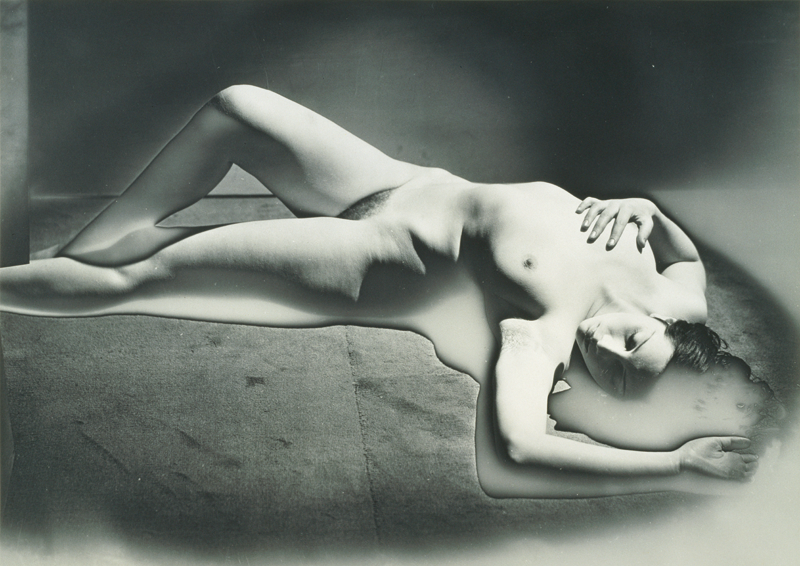 A nude woman lies on a carpet. Using "solarization" (a phenomenon in which the tone of the image changes when film is exposed to light during the process of developing) as a technique, the image presents sensuous but tough and inorganic beauty. Man Ray "discovered" the technique by accident with L. Miller, who was his disciple and became a photographer herself. Following Surrealist ideas, Man Ray was seeking for new expressions in photography, emphasizing the camera as "the Eye of Machine" and making use of its objectivity and accidentalness. The title of this image expresses his concept as such. (MATSUNAGA Shintaro)
■Man Ray [1890–1976] Born in Philadelphia, the United States, as Emmanuel Radnitzky, Man Ray was an active member of the New York Dada along with Marcel Duchamp from 1917. Moving to Paris in 1921, Man Ray participated in Surrealism. Among his works ranging from painting, films, and objects including readymade works, he was most reputed for his photographic works. In particular, the use of the rayograph and solarization brought unique qualities to his photographs. Man Ray also photographed a number of portraits of famous artists and writers.
UMESAKA Ori  《Bamboo Woods》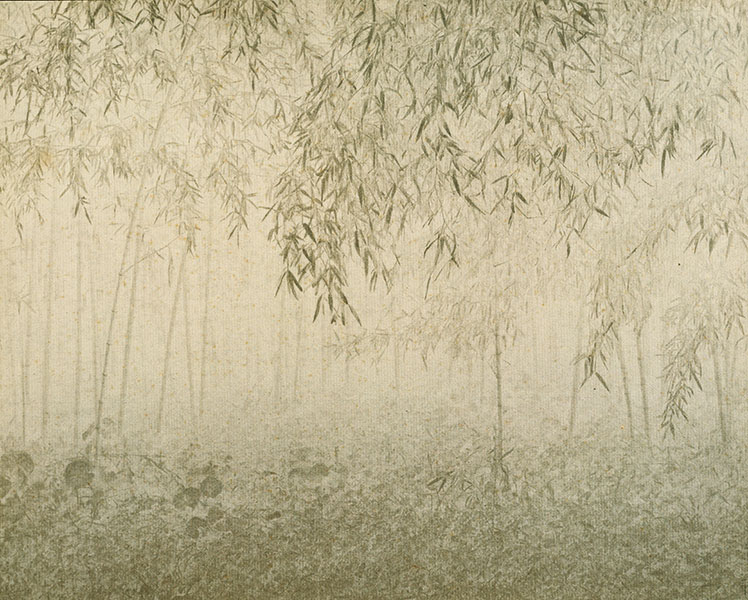 UMESAKA was a great master of the gum print process that had been extremely popular in the heyday of Pictorialism around the end of the 19th century in the West and later among Japanese artistic photographers. The ink painting-like gradation in this image was created through the repetition of printing and developing that characterizes this elaborate process. Not only do the delicate shades, but also the choice of subject and the composition of the photograph demonstrate UMESAKA's inclination to Nihonga. This work is a notable achievement of Japanese Pictorialism and often included in books written abroad about Japonism. (MATSUNAGA Shintaro)
■UMESAKA Ori [1900–1965]
Born in Osaka, UMESAKA Ori (real given name Umekichi) was interested in photography while helping his family business in stock trading. After joining a local amateur photographer circle in 1918, he participated in Naniwa Shashin Kurabu (Naniwa Photographer's Club) in 1920. In 1926, his photograph "Casting a Net in the Evening" (Yokohama Museum of Art et al.) received honorable mention at the 1st Japan Photographic Exhibition. As many competitions and exhibitions were held then in Japan, he frequently submitted his works and won awards, which made him a leading figure of amateur photography in the Kansai region. In 1927, he formed the photographers' group Ginrei-sha with YASUI Nakaji. UMESAKA photographed familiar sceneries and plants and printed the images in gum prints that demonstrated his superb technique and artistic sensibilities.
NAKAHIRA Takuma 《Untitled, from the Series Degree Zero – Yokohama》

In his book of his critical essays Why an Illustrated Botanical Dictionary? (1973), NAKAHIRA denied his former expressive style consisting of extremely blurry and grainy images and manifested to shift towards objective photographs. The subjects of his "Degree Zero - Yokohama" series were mostly taken in Yokohama with a few exceptions taken in Okinawa. Without empathy or symbolic suggestions, the subjects of NAKAHIRA's photographs are simply captured with the same vertical format. The series was shown for the first time at his solo exhibition "Degree Zero - Yokohama" organized by the Yokohama Museum of Art in 2003. (OSAWA Sayoko)
■NAKAHIRA Takuma [1938–2015]
Born in Tokyo, NAKAHIRA took up photography inspired by the photographer TOMATSU Shomei whom he met when working for the editorial team of the magazine, Gendai no Me in 1964. He also began writing about photography and films around the same time. In 1968, he cofounded the photographic coterie magazine Provoke with several friends such as the critic TAKI Koji. NAKAHIRA and his colleagues impacted the photographic world with features of their photography, namely "are, bure, boke" (rough, blurred and out of focus). In 1970, he published the photography book For Language to Come. Soon afterwards, he fell ill and suffered from a loss of partial memory but was able to resume photography. After returning to work, NAKAHIRA settled in Yokohama and held a solo exhibition at the Yokohama Museum of Art in 2003.
MORIMURA Yasumasa  《A Requiem: Vladimir at Night, 1920. 5. 5–2007. 3. 2》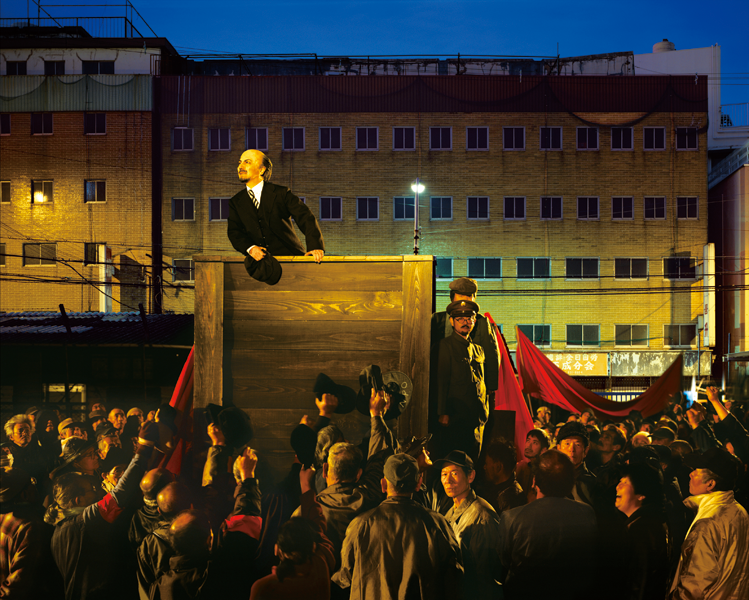 Having created self-portraits impersonating subjects of well-known Western paintings and famous film actresses, MORIMURA disguised himself as in Vladimir Lenin in this work. Kamagasaki, an area known as the skid row of Osaka, substitutes for the square in front of the Bolshoi Opera. In a video of the same subject that was made at the same time, MORIMURA/Lenin delivers a speech about the vanity of human beings in front of a crowd who has supported the rapid economical growth and construction boom during the bubble economy. In this act, the dream of the Socialist revolution that sought for an ideal society for laborers and the reality of Japanese society a century later are symbolically contrasted. (KIMURA Eriko)
■MORIMURA Yasumasa [b. 1951]
Born in Osaka, MORIMURA created a self-portrait in the disguise of V. van Gogh in 1985. Since then, he has consistently made "works like selfportraits" in photography and video, impersonating figures from masterpieces in art history, famous actresses from classic films, and important figures from the 20th century. His works have been exhibited in various international exhibitions such as Aperto of the 1988 Venice Biennale. Two solo exhibitions have been presented by the Yokohama Museum of Art, "The Sickness unto Beauty–Self Portrait as Actress" in 1996 and "Bː-Class, Be Quiet" in 2007. MORIMURA is the artistic director of the Yokohama Triennale 2014.
Constantin BRANCUSI  《Bird in Space》
Brancusi's bird figure stands upright as the ultimate result of his sculptural inquiry. The top end is cut at a slant, with its body expanding downwards and then becoming thinner again. The foot bulges at the bottom, slightly billowing until it reaches the three-tiered pedestal also designed by the sculptor. The sculpture is symmetrical, with an axel that extends from the top to the very bottom of the pedestal. The bird wears brilliancy instead of feathers. Form, position and light are the means of the sculptor. The motif of the work is derived from a legendary bird from the artist's home country of Romania known as Maiastra, which has gorgeous wings and a magical voice. The top end of the work most likely represents the bird's open mouth. Landing on a special place, Maiastra is proudly singing aloud to the heavens. Brancusi created 17 variations of "Bird in Space" in different sizes and proportions. This particular piece is from same original as the one purchased by E. Steichen. (NAOAKI Nakamura)
■Constantin BRANCUSI [1876–1957]
Born in Hobita, Romania, Brancusi studied at the Academy of Fine Arts in Bucharest from 1898 until 1902. Between 1902 and 1904, he journeyed and moved to Paris, travelling mainly on foot. Entering the Académie des Beaux-Arts in 1905, his work was accepted for the Salon in 1906. The following year, he began study under A. Rodin, who was one of the juries of the Salon, but quit three months later. With techniques of direct carving on stone, he created the sculpture "Le Baiser (The Kiss)" as well as works using essential forms of torsos and animals, displaying his skills of surface finishing and creating pedestals for his sculptures by himself. When his work "Bird in Space" was taxed by U.S. customs in 1927 as an industrial component, a trial was held to determine whether the sculpture was a work of art, which Brancusi eventually won. In 1938, he completed his monumental sculptural ensemble in Tirgu-jiu, Romania. He acquired French nationality in 1952.
Isamu NOGUCHI 《Sun at Midnight》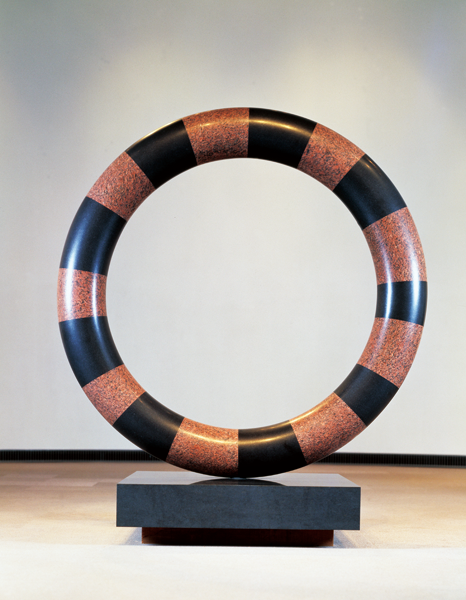 Supported at only a small point on its pedestal, the ring composed with an alternating pattern of red and black stones that appear to symbolize day and night and the sun and darkness, seems weightless as if afloat in the air. From a young age, Noguchi had been interested in Buddhist philosophy, especially Zen. The idea of reincarnation underlies the work, which is suggested in the use of stone, an eternal material. With the hollow in the center that represents "nothingness," the work is also Noguchi's formal challenge as a sculptor to visualize the volume of space. (KIMURA Eriko)
■Isamu NOGUCHI [1904–1988]
Born in Los Angeles, U.S. to the poet NOGUCHI Yonejiro and his American partner, Léonie Gilmour, Isamu spent his childhood in Japan. After studying under C. Brancusi in Paris, he started his career as an artist in New York. In addition to creating sculptures including works of public art, he worked across various fields such as set design and product design. During his later years, Noguchi divided his time between his studios in New York and Mure-cho, Kagawa, Japan, both of which are now the Noguchi Garden Museum open to the public. He died in New York City in 1988. In 2006, the Yokohama Museum of Art presented an exhibition of Noguchi's work, "Isamu Noguchi -Connecting the World through Sculpture- ."
MIYAGAWA Kozan I 《Vase with Phoenix Design in Underglaze Blue》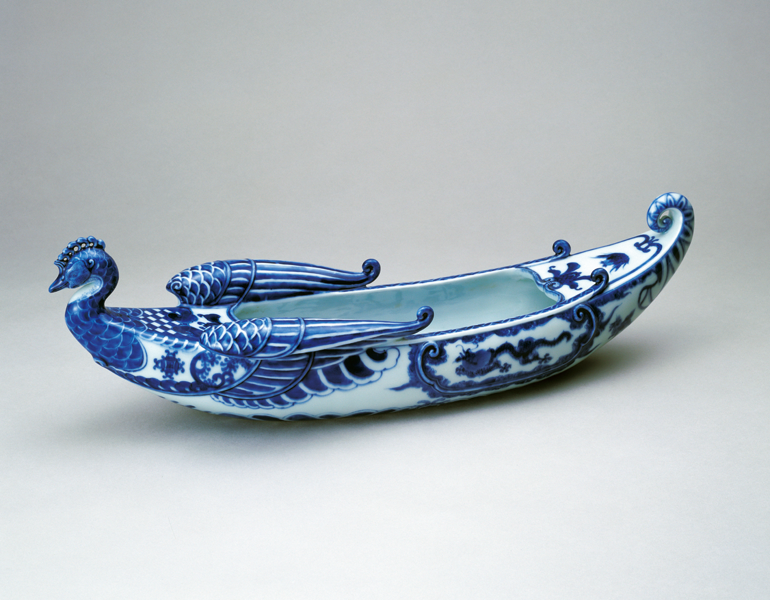 MIYAGAWA Kozan I, who had formerly created potteries decorated with high-reliefs primarily for export to the West, began to produce technically and visually sophisticated ceramic works for domestic customers, experimenting with various kinds of enamel glazes and underglazes. This vase made with a blue underglaze and representing a phoenix-shaped boat was most likely created during Kozan's later years. Resulting in a lucent blue, the exquisite patterns drawn around the head and wings enhance the elegance of this work. Waves are designed around the bottom suggesting a boat being afloat on the water. (OTA Masako)
■MIYAGAWA Kozan I [1842–1916]
Born in present-day Higashiyama-ku, Kyoto to a potter's family, Kozan grew up watching his father and brother's work from during his childhood. Having his own kiln in present-day Kanoedai in Yokohama from 1871, he created pottery under the name of "Makuzu ware," which began with gorgeous Satsuma ware type pottery decorated with exquisite reliefs. Since exhibiting and being awarded at the Centennial Exposition in Philadelphia in 1876, the Makuzu ware potteries Kozan created became quite popular in Europe and the United States. In his later years, Kozan produced sophisticated tableware in the styles of celadon ware and blue and white porcelain, also inventing various types of enamel glazes. Appointed as an Artist to the Imperial Household, he made a great contribution at the dawn of modern ceramic art in Japan.
*These texts were written by the curators at the museum, whose names are shown at the end of each text corresponding to the works of art.